Children's Ministry
2022 VBS! Info below!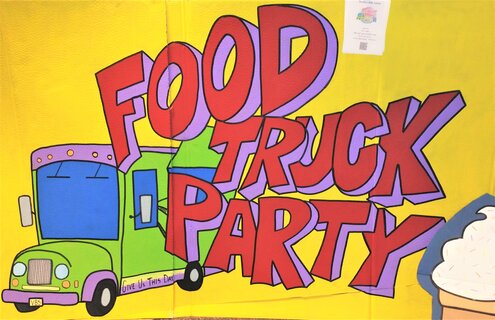 Sunday School — (Every Sunday 9am-10:15am)
Every Sunday before the service, 9:15am-10:15am
2nd Floor Education Wing
We started a 12 week study called "Hey God... Can I ask you something?" We will learn that it is as easy to talk to God as it is to Siri or Alexa. We will look at some of the prayers recorded in the Bible to see just how eager God is to listen to us, speak with us, and answer our prayers.
Kid's Zone — (During each Worship Service)
Every Sunday during the worship service
Children up to 3rd grade are excused from the second half of our worship service for children's activities.
"Food Truck Party" VBS — (July 18-22, 5:45pm-8:30pm)
Monday, July 18 to Friday, July 22, from 5:45pm to 8:30pm each evening.
Our theme for the week is "Food Truck Party... On A Roll With God"
VBS Monday-Thursday, and Friday we will celebrate with fun food trucks and bounce houses in the parking lot!
We will also be having water games for our game centers- please have your child wear clothes that can get wet (bathing suits are okay) and bring a towel.
Ages 4 years old - finished 5th grade
We are in need of about 50 soup cans, emptied and cleaned, for VBS. You can place them in Missy's office or in the red container by the elevator at the front of the chapel. Thank you!
Sign up to bring grocery items or craft supplies by clicking here!
Click here to register your child for VBS!
Trip to the Rescue Mission
Sunday, August 7 — church trip to the Rescue Mission
Not exclusive to kids!
Advent Bible School
TBD: Advent Bible School (Saturday, Dec. 3, and Saturday, Dec. 10, possibly)